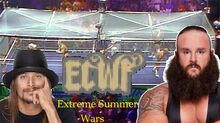 Extreme Summer Wars is the newly minted PPV for Extreme Championship Wrestling Federation. It will be the Pay-Per-View (PPV) that will feature the War Games match.
War Games match - is a two side-by-side rings wrapped in a big steel cage. A 4 person team versus 4 person team. One person from one team will start out facing one person another team. Then 90 seconds later someone from either team randomly will come out. Once all 8 people are out then a pin fall or a submission can happen. Weapons are available for use.
War Games Tag match - it will start with 2 teams in a two side-by-side rings wrapped in a steel cage. After 120 seconds of fighting the final team will enter and once that happens pin fall or submission can occur.
2018
[
]
ECWF is having the event at "American Airlines Arena" in Miami, Florida on June 29, 2018/
Matches
Notes
Team Kage (Lynn Starr, Rick Long, Styx, & Marco Rossi) w/Kris Kage defeated Team RNRG (Joanna The Jungle Girl, Arcane, Raphael, & Chaotic) w/Rock N' Roll God

War Games

match for 50% Control of ECWF; Red Dragon helped and now Kris Kage is 50% Owner / Vice President
Frank Solomon defeated Mr. B
Solomon Cain defeated Tiami Erickson and Rayne Young
Rayne Young didn't show so it became a singles match; #1 Contendership for the Nex*Gen Championship
Kevin Hunter defeated Erik Holland(c) and Chris Matthews
Triple Threat match for World Heavyweight Championship
The Dragon Clan (Eric Donavan & Lyra LeVeux-Donavan) & Samantha Tolson defeated The Kingdom (The Resurrected One, Evan Morre, & Peter Preston Petrangelo) and The Savage Kingdom(c) (Daniel Keegan, Samuel Steele, & Michael Shaw)

War Games

Tag match for the World 6-Man Tag Team Championships