We're Getting Mutants in the MCU - The Loop
Play Sound
ECWF Global Tag Team Championships

[

]
This is Extreme Champion Wrestling Federation Global Tag Team Championships. What set them apart from the ECWF and World Tag Team Championships was that both of those belts where merged to make them. ECWF did that before WWE ever did theirs.
Title Reigns
[
]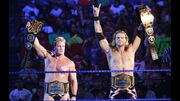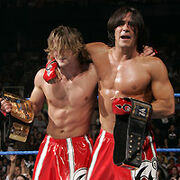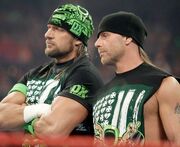 Champions
Notes
The Revolution (Ray LaPointe & Bill Ryder)
Defeated Lee Poison & Poetic Death in a tag team tournament
Ray LaPointe & Rock N' Roll God
RNRG took over when Bill left the company
Chaos Theory (Scream & Poetic Death)
Lee & Poetic left ECWF as Champions
David Gunn & Apocalypse
JDO (Demon & Jesse Rinker)
The MasterBation Nation (Wilmer Patacky & Jerry Mazy)
Rick Long & Brian Kage
Team KMK (Triple X & Squirrel)
The Dark Girls (Lucy Williams & Dangerous Deanna)
First time females held tag team gold in ECWF
Natalie Shay & Brooke Michelle
First time ECWF had an all Females tag team title matchup.
Raphael & Steve Relic
N-X (Chris Helms & Jake Helms)
The Dark Society (Mr. B & Jeff Williams)
The Revolution 2.0 (Ray LaPointe(2) & Lee Poison(2))
Defeated Triple X & Squirrel to win the vacated titles
Ray LaPointe(2) & Eric James
Lee handed his half of the belts to Eric.
Eric James & Rock N' Roll Jesus
Ray retired and handed his half to RNRJ
The Dominant Force (Hannah Walters & Brooke Michelle)
Hannah Walters & Natalie Shay
As Brooke retired and the FCW brand failed Natalie took over her half of the gold.
Brian Jones & Rick Long(2)
Alessandra Wynter & Astra Kyrie
Alessandra Wynter & Karolina Graf
Astra left the group and handed her belt to Karolina
Alessandra Wynter & Lynn Starr
Karolina left the group and handed her belt to Lynn.
Rockin' Lunatic
Won the first ever Damage Control Championship Where World Champion teamed with two other champions and fought in a first pinfall 6 person tag and winner gets the loser's belt. Rockin' pinned Lynn to capture the tag gold by himself.
Undead Army's Virus
It was a stable that Lunatic was apart of. Rockin' Lunatic, 2 Dope, Ashley Bullard, Alina Bullard, The Bigstuff, & Street Fighter
Undead Army's Virus quit the company vacating the tag titles.
Shock & Awe (Marcus Cage & Dynamite)
The Underground Alliance (Joey Cranston & Enforcer)
Joey Cranston & Riley Moore
Enforcer quit and handed his belt to Riley. Making this the first ever Intergender tag team to hold the belts
The Underground Alliance (Joey Cranston(2) & Enforcer(2))
Riley handed her belt back over to Enforcer when he came back.
The Dark Girls (Lucy Williams(2) & Dangerous Deanna(2))
The Leaders of The Banned (SGM & Adam Cage)
They retired the titles when they merged with the

AHW World Tag Team

titles to form the Undisputed Tag Team gold.
Most Reigns
[
]
| Names | Reigns |
| --- | --- |
| Dangerous Deanna & Lucy Williams | 2 |
| Ray LaPointe | 2 |
| Lee Poison | 2 |
| Joey Cranston & Enforcer | 2 |
| Rick Long | 2 |