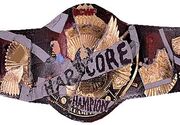 This is Extreme Championship Wrestling Federation's Hardcore Championship. It was made back in late 2002. WAR was the winner of a 8 man hardcore rules tournment to win the belt. Hardcore Rules / Horror-Core Rules means weapons, pinfall / submissions anywhere.
24/7 Rules
[
]
ECWF had a 24/7 rules for the belt. Meaning that the championship matches can happen anywhere. In the arena, airport, or at home. Didn't matter. Special referees were appointed to help figure out winners.
Custom Championships
[
]
When Eclipz (last known champion) won the Hardcore title he made a new look and
14n14 era
[
]
Hardcore Champion Stanton took the belt over to the 14n14 federation and lost the belt. They had at least three different title changes and ECWF got it back.
New Name
[
]
ECWF has changed the name of the Hardcore to Horror-Core.
Reigns
[
]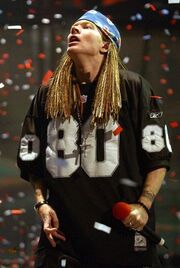 #
Champions
Reigns
Notes
1
WAR
1
beat James Hill in a tournment to win the belt on

Raw

.
2
James Hill
1
ECWF named the belt was to be defended under 24/7 rules
-
Romeo
15
-
The Raven
5
-
The Climax
20
-
Will Fillberg
32
-
2 Dope
13
-
Rock N' Roll God
1
-
Big Randino
1
-
Kenny Famous
1
-
Scream
11
-
Zoom
3
-
Murdoc Lionhart
1
-
Harry Potter
1
-
Angel Lionhart
1
-
Jason "Smokey" Lansing
1
-
Staton
1
-
14n14's The Killer
1
This was a 14n14 invasion angle which lead the belt to be
ECWF died and the 24/7 rules was discontinued
3
Bo Bo
1
RNRG named Bo Bo the Hardcore
4
Dangerous Deanna
1
First female to win it
5
Big Randino
2
6
The Giver
1
7
JJ Adkins
1
8
The Giver & Big Randino
2 & 3
Both men pinned the guy at the same time and was named first tag team to win the belt
9
JJ Adkins
2
10
Rock N' Roll Jesus & The Mortication
1
Both guys pinned him at the same time (2nd tag team)
11
Rock N' Roll Jesus
1
Mort gave his his belt to RNRJ
12
Chris Frenzy & Mark Frenzy
1
Both guys pinned RNRJ at the same time. (3rd tag team)
13
Demon
1
14
Squirrel
1
15
2 Dope
14
Dope quit ECWF vacating the title
16
Eclipz
The belt was retired
The belt was renamed to Horror-Core Championship in 2018
17
Marco Rossi
1
Won a 10 person tournament on Revolution #122; His match was added due to a bracket no showing
18
Dick Devereaux
1
Won it in a Slaughterhouse Rules match at

Devil's Night

19
Samantha Tolson-Anderson
1
Won it over in Japan for the All or Nothing 2018 PPV.
20
Eavan Maloney
1
Horror-Core Rules match at World War 4 2019
Eavan Maloney was fired from ECWF
Most Reigns
[
]
| Names | Reigns |
| --- | --- |
| Will Fillberg (24/7 rules) | 32 |