We're Getting Mutants in the MCU - The Loop
Play Sound
StarCade is the mega PPV of the year for the federation called Extreme Championship Wrestling Federation. It is usually held on the last sunday of March. Every year ECWF adds a roman numeral to the end of that. It is up to X (10) for the PPVs.
StarCade I (2003)
[
]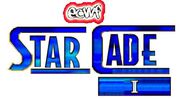 StarCade II (2004)
[
]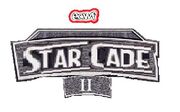 StarCade III (2005)
[
]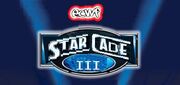 StarCade IV (2006)
[
]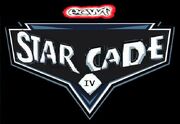 StarCade V: Deep Space 5 (2007)
[
]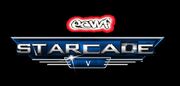 | Matches | Notes |
| --- | --- |
| Papa Joe defeated K~Dawg | Bull Rope match with help from ROck N' Roll God |
| Team EWE defeated Team ECWF | This was a friendly 3v3 elimination tag. All members of Team EWE survived |
| Preston Carter Stark defeated TopHat, Ray LaPointe, K-Dawg, Corey Stevens, and Rockin' Lunatic | Chamber of Horrors Match for the vacated Undisputed World Heavyweight Championship |
StarCade VI (2008)
[
]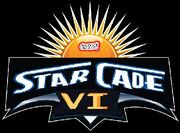 StarCade VII (2009)
[
]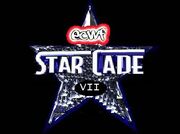 StarCade VIII (2010)
[
]

StarCade IX (2011)
[
]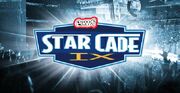 StarCade X (2012)
[
]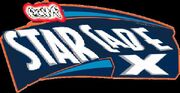 Matches
Notes
Beth Payne defeated Kiara Silverfang
Grungie vs. R-Dawg vs. Trenton Walker
Match was thrown out by referee
Brandon Bash defeated Ray LaPointe
for ECWF Million Dollar Championship & 2012 ECWF

Icons

Mr. B defeated Chris Creature, Lucian Frost, Jeff Williams, Shane Billz, and SMT
6 Man Ladder Match for the 2012 ECWF Gold Rush Contract
Dangerous Danna & Lucy Williams defeated Destiny Michaels & Taylor Michaels
Losers retire tag team match
Kevin Krash defeated Lee Poison(c)
World Heavyweight Championship
StarCade XI (2016)
[
]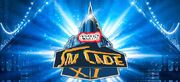 Matches
Notes
Chris Helms defeated The Puppet Master
Mr. B & Jeff Williams defeated Mark Frenzy & Christopher Frenzy
2016

Icons

Tag Team Mach
Paige Matthews defeated Adam Helms
Carnage Rules match for the Carnage Championship
Allison Knight defeated Nikki Walton & Destiny Hunter
Divas Championship
Kyle O'Brien & Chris Hunter defeated Bill Summer & Don Summer
ECWF Tag Team Championships
Rockin' Lunatic defeated Red Dragon, Alex Braun, & Devilyn Hunter
4 Man Ladder Match for the Gold Rush Contract
Kevin Hunter defeated Chris Mattews
It was for both World Heavweight & Showtime titles and the Showtime was retired after the match.
StarrCade XII (2017)
[
]
It was at "Madison Square Garden" in New York City, New York on October 29, 2017.
StarrCade XIII (2019)
[
]
Event takes place in "Madison Square Garden" in New York City, New York on March 31, 2019.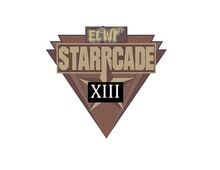 Matches
Notes
Rockin' Lunatic vs. Syko
2019

Icons

match; the match was thrown out due to no one showing up.
Mr. B & Jeff Williams defeated Mike Dimter & Victoria Scott and Marco Rossi & Johnny Lobo Jr.
Triple Threat Tag Team match for the World Tag Team Championships
Dan Anderson, Jay Reynolds, & Ken Hazzard defeated Chris Helms, Jake Helms, & Adam Helms
6-Man Tag Team match for the vacated World 6-Man Tag Team Championships
Sully Sphinx vs. Charlie Feigel
Horror-Core Rules match for the vacated Horror-Core Championship; the match was thrown out due to no one showing up. The belt is still vacated
April Dimter defeated Emily Helms, Alios Zollin, and Ashlynn Taylor Kage
Fatal Four-Way match for the vacated Women's Championship
Kevin Hunter defeated Ricky Stanton, Trailer Park Kid, James Ceno, Ace Jones, Alexander Thrace, Eric Cobretti(quit ECWF), and Adam Gatner(fired)
8 man Ladder match for the vacated World Heavyweight Championship
StarrCadeXIV (2020)
[
]
This took place at Madison Square Garden in New York on April 26, 2020